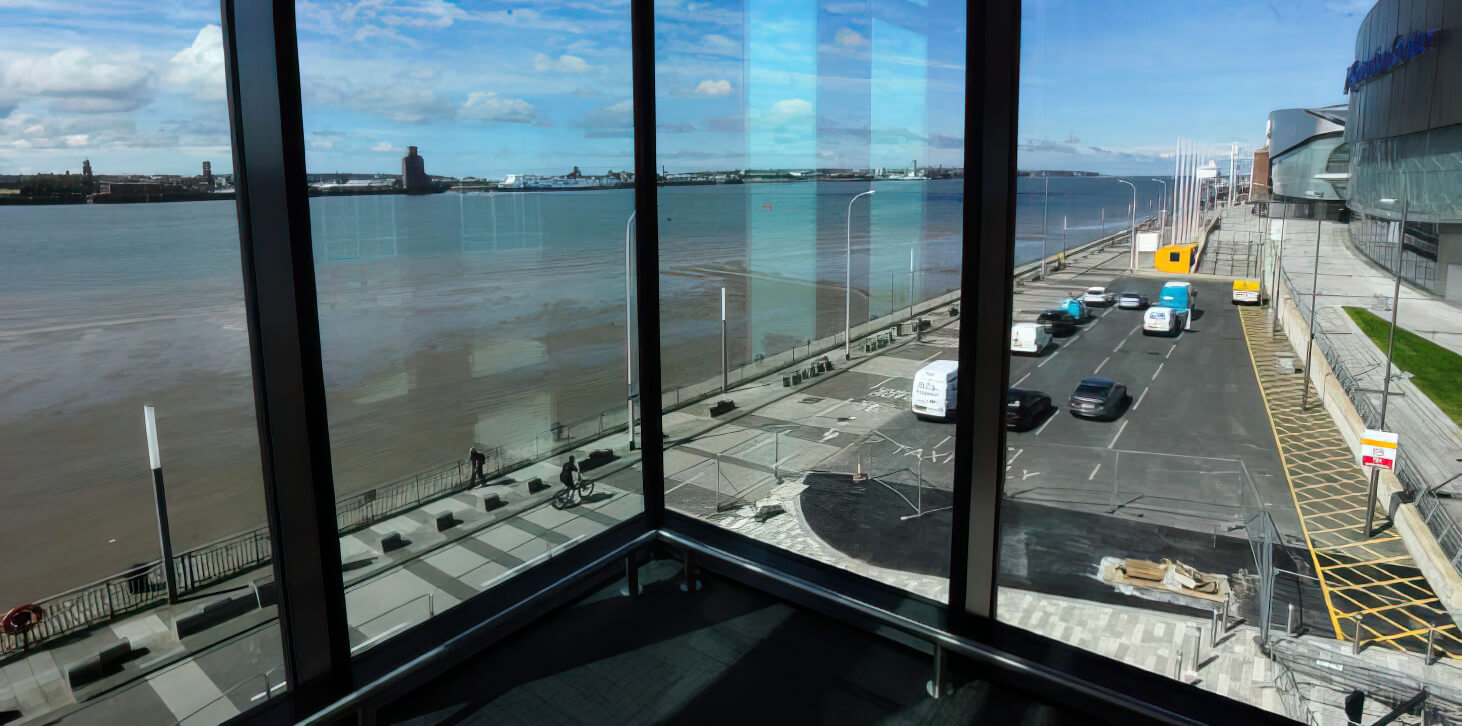 Exhibition Centre Liverpool
Carsten Kunert, vandaglas GmbH
4,500m2 of double glazed units manufactured
Solar control with Saint-Gobain COOL-LITE Xtreme 50/22
Acoustic insulation for hotel accommodation
dualseal has manufactured high performance insulating glass units (IGUs) for the latest building in the North West of England's most significant new events complex in decades, Exhibition Centre Liverpool (ECL).
Providing the final piece of the jigsaw to complete the King's Waterfront area, the Denton Corker Marshall designed ECL and neighbouring hotel overlooks the River Mersey as an integral part of the Arena and Convention Centre (ACC) Liverpool. Developed by Liverpool City Council, the ACC Liverpool is a multipurpose events and convention venue which houses the Echo Arena, opened in 2008, and the BT Convention Centre.
ECL-3-2.jpgThe scale of the ECL building, with its large areas of uninterrupted floor space providing optimum flexibility in the types of events it can accommodate, was suited to a steel frame structure complete with an external envelope comprising cladding panels integrated with curtain and ribbon walling. The architects' aim for the facade design was to ensure that the building is well-integrated with its surroundings, with the design language and materials drawing on the industrial heritage of the Liverpool docks.
The resulting exhibition centre building measures 164m in length by 85m in width which delivers 8,100m2 of exhibition space. This is split over three large halls, each measuring 60m × 45m, that can be used separately or opened up via sliding partitions into one large space.
dualseal was commissioned by main contractor ISG to manufacture double glazed units for 4,500m2 of the building's frontage which looks onto the Mersey. Installed by Bennett Architectural Aluminium, the glazed double-height public concourse runs the full length of the structure, above which is the main concourse and first floor accommodation featuring meeting rooms and offices.
Saint-Gobain COOL-LITE Xtreme 50/22 was specified as the outer leaf of the insulated glass units for both the hotel and exhibition centre facades. This latest technology triple silver solar control coating was an ideal choice for the development where light transmission and a high degree of neutrality was important but the need to keep solar heat out in the summer months and retain internal heat in the winter months were also key factors in the design.
The hotel facade also required critical levels of certified acoustic insulation in both the bedroom and meeting room glazing.dualseal were able to meet this criteria by introducing specialist laminates within the unit specification without compromising the overall glazing requirements.
Rob Bennett, Sales Director, of Bennett Architectural, said: "This project needed to be aesthetically pleasing but also meet stringent performance standards, so we worked hard with the architect's team to create a solution that met all requirements and we are delighted to be working with ISG on this landmark scheme for Liverpool."
Heralded as another major step towards putting Liverpool on the global events map, the ECL is expected to host about 50 events and attract more than 250,000 visitors every year.