Dear Customer,
UKCA Glass Marking
The UKCA (UK Conformity Assessment) mark is the new UK product marking that will be required for processed glass products for use in buildings being placed on the market in Great Britain (England, Wales and Scotland). It replaces products that previously required the CE mark.
Dual Seal Glass has started the changeover, which must be completed by the 31st December 2022. All processed glass manufactured by Dual Seal from the 1st January 2023 will be marked in accordance with the relevent product standard containing the prescribed information together with the UKCA mark.
During the transition period there will be some orders for projects that will contain CE marking and some for the same project may also contain UKCA marking. Both types of marking are valid during the changeover period.
Thank you for your continued support.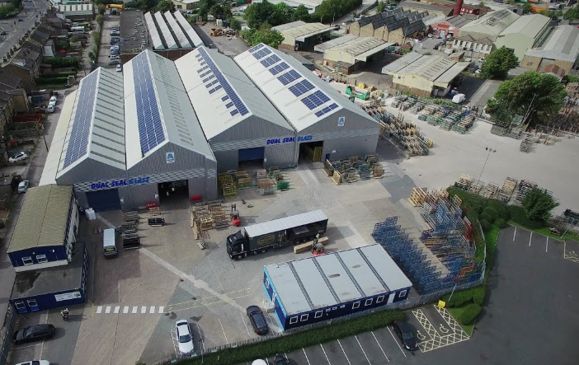 dualseal Now Part of the vandaglas Group
dualseal is proud to announce that we are now part of the vandaglas group. This is an extremely exciting development that will help the company to grow and prosper further in the architectural glass sector. We are pleased to welcome Nils Matthies and Ulrich Feindt to dualseal's site to introduce themselves to our team.
To read more, please see the press release from the vandaglas Group.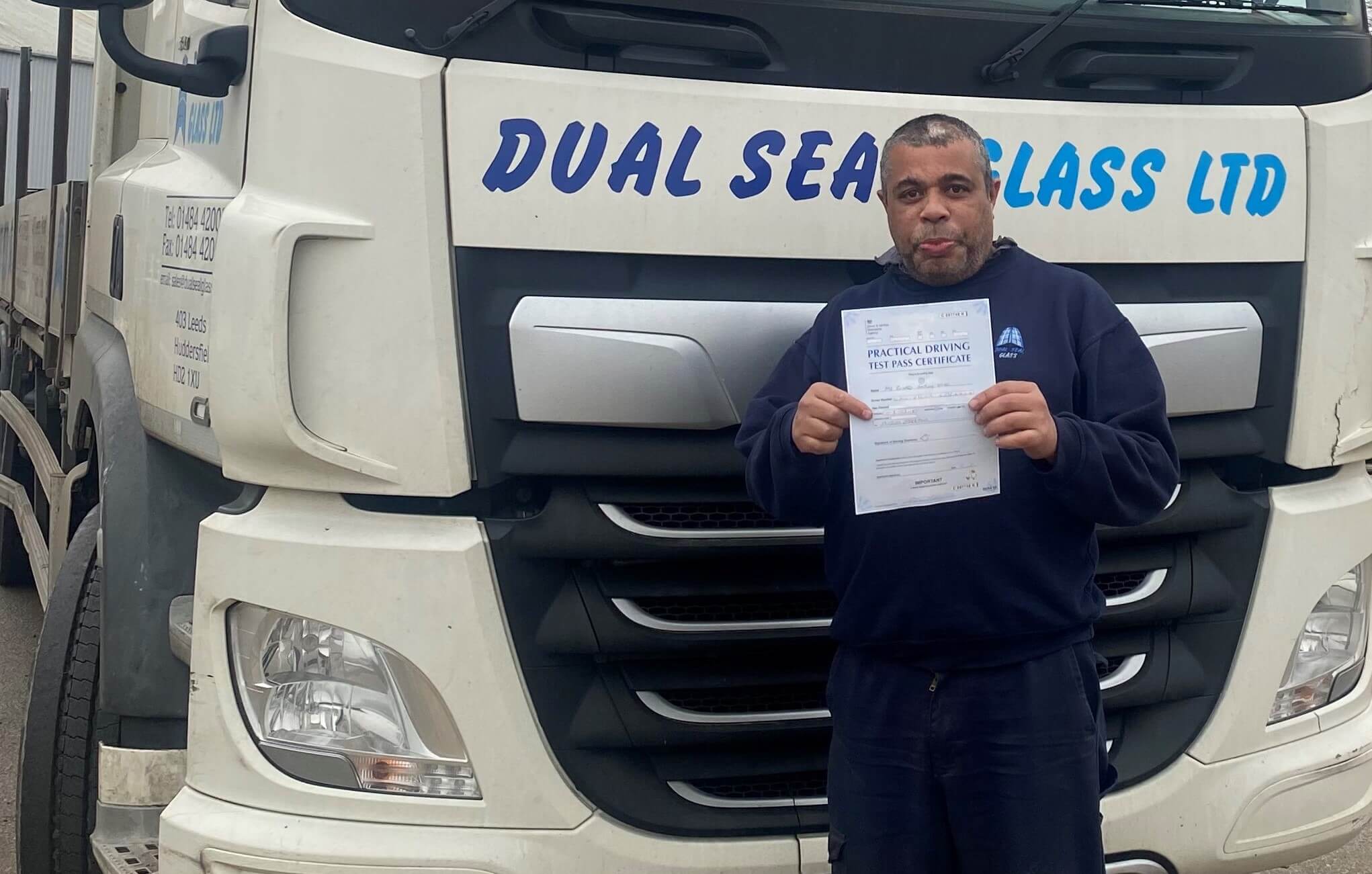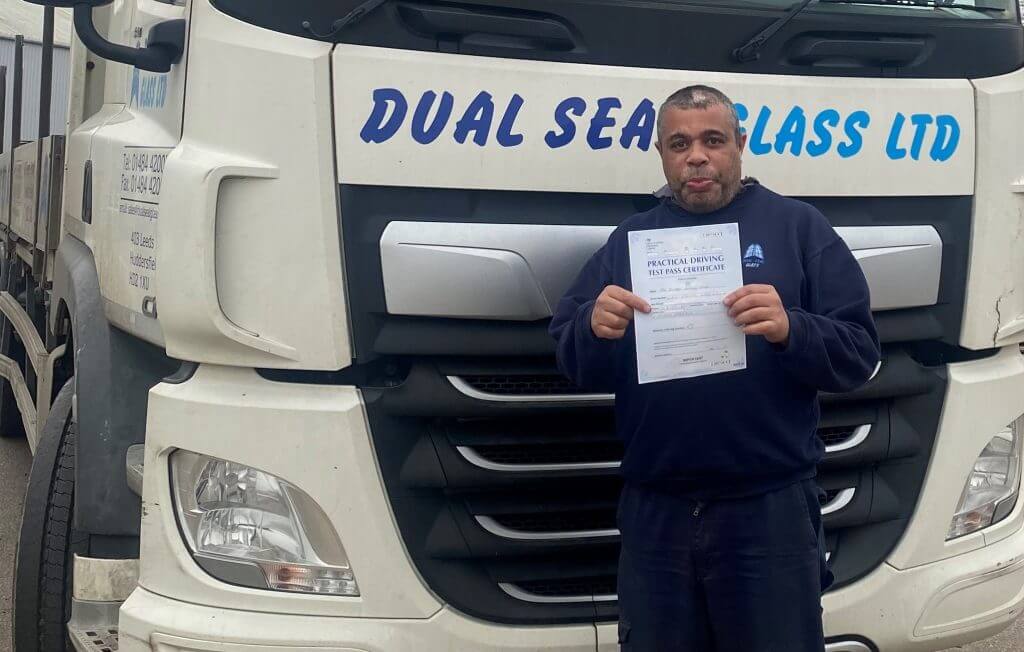 Richard David passes C+E License!
A massive congratulations to our driver Richard David on passing his C+E Licence.
Richard joined dualseal 18 years ago and is one of our longest service drivers. We currently have a fleet of 10 drivers at dualseal of which 3 have qualified for their C+E Licence-holding.
As you can see, Richard and both our transport managers, Andy and Ian, are thrilled with this achievement.
Well done Richard!
Richard David after receiving his C+E Licence
Left to right: Andrew Northrop (transport manager), Richard David and Ian Rowley (transport manager)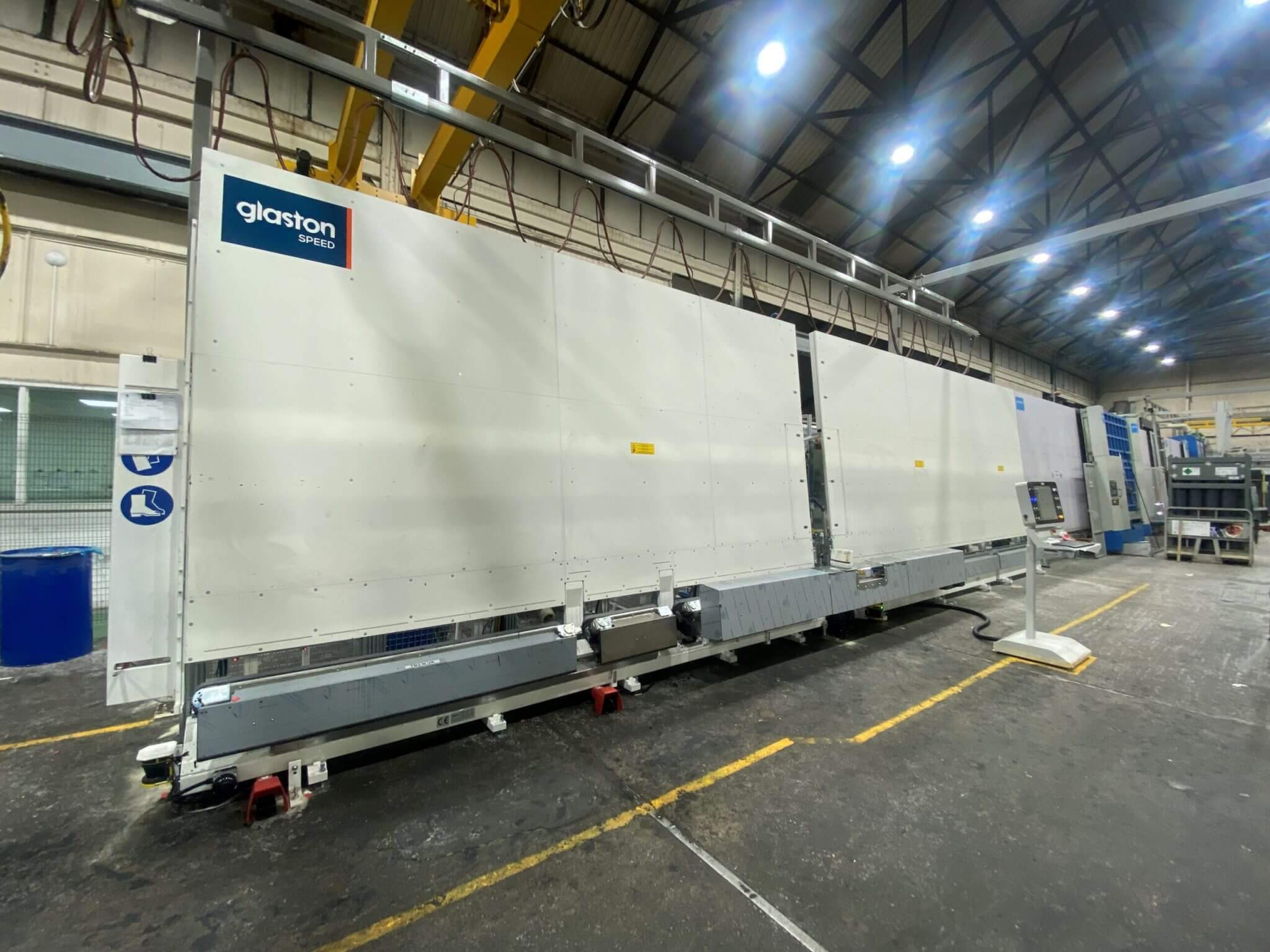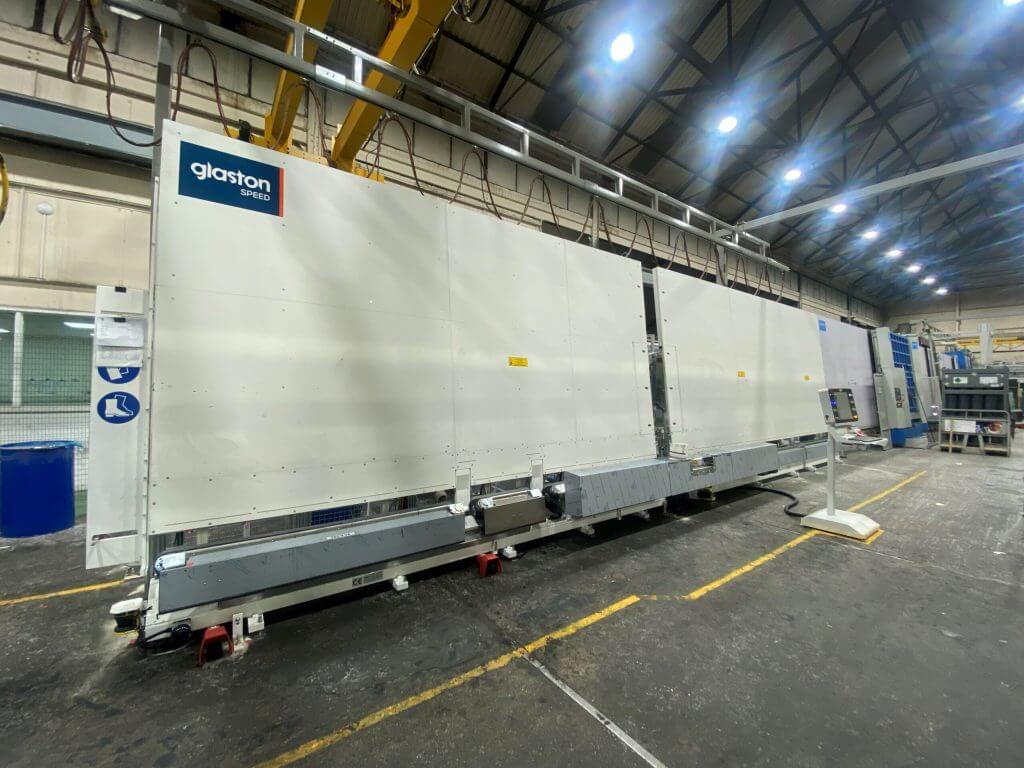 New Speed Sealing Robot installed at dualseal
dualseal are delighted to announce that our fully automated Bystronic Speed Sealing Robot has been fully installed and commissioned.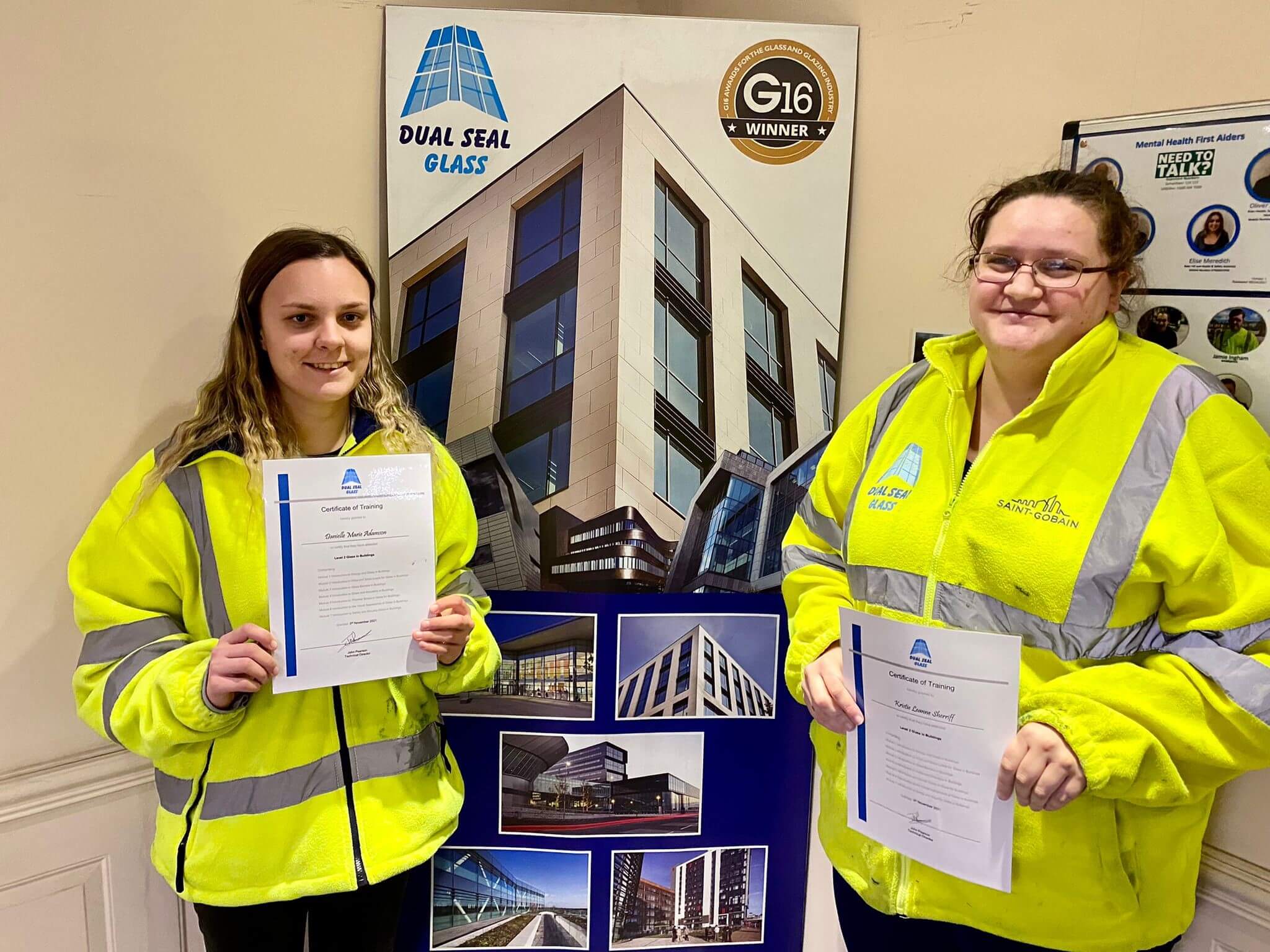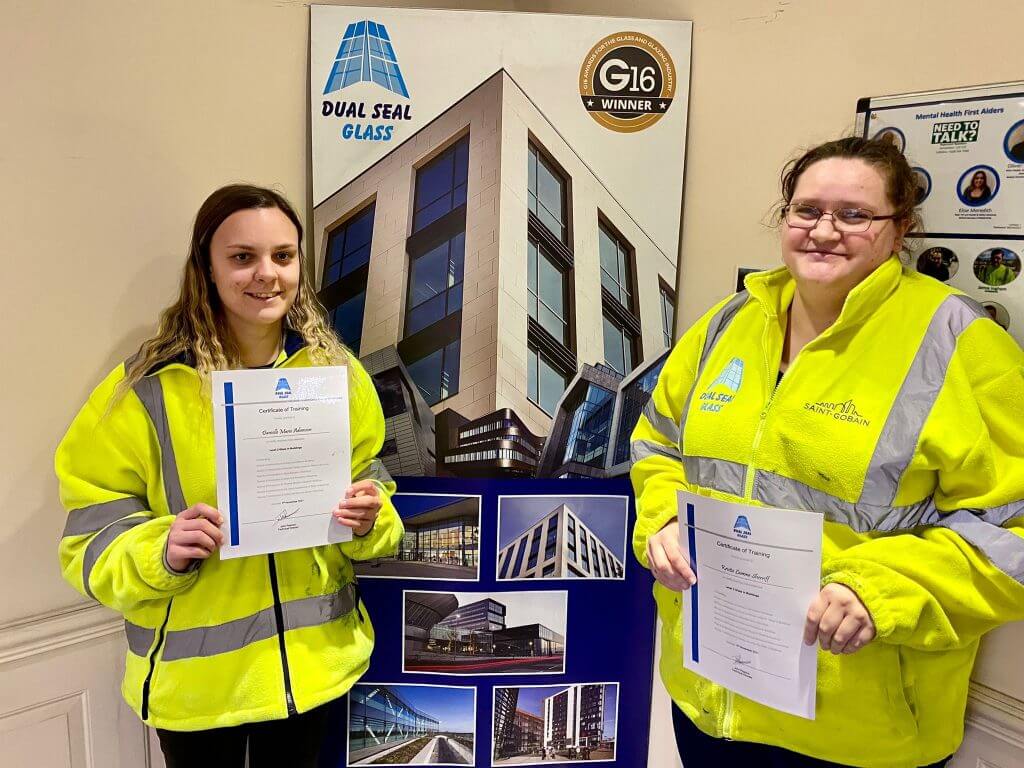 Glass in Buildings Level 2 Training Completed
Two members of our Quality Department, Kristie Sherriff and Danielle Adamson, have recently completed training in Level 1 and 2 Glass in Buildings, conducted by our Technical Director, John Pearson. This is a great introduction for new starters in the glass industry to help them get to grips with glass types and glass processing.
A huge congratulations to them both on this commendable achievement.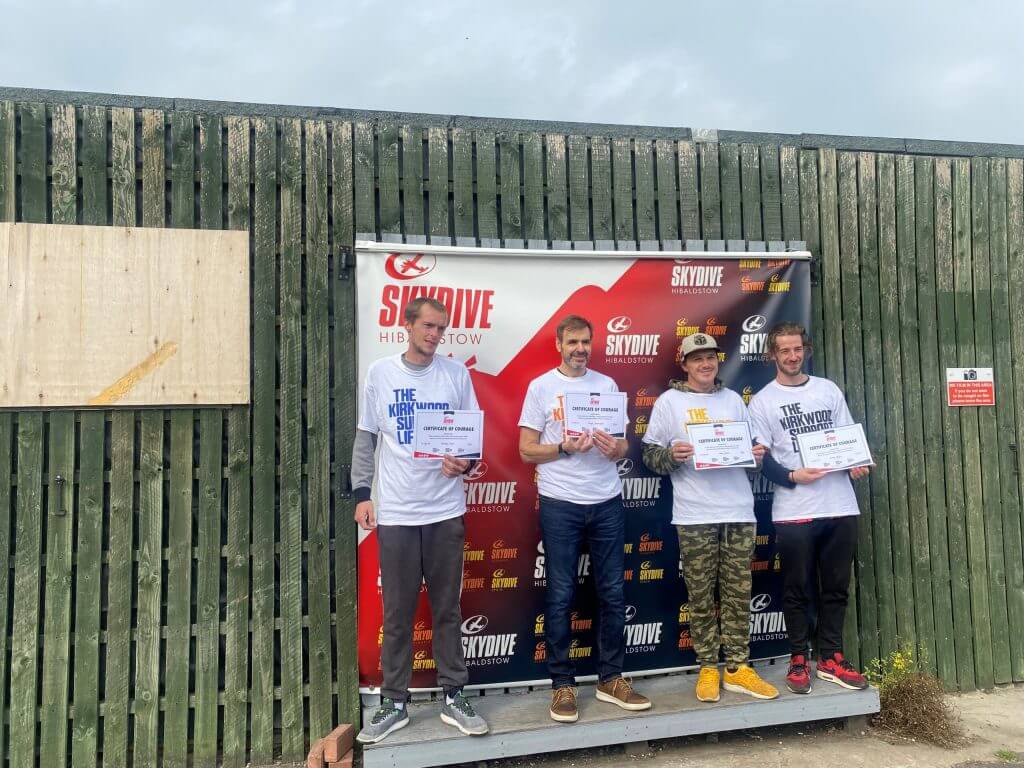 Teamdualseal go skydiving!
On 20th September 2021, Teamdualseal travelled to Hibaldstow Airfield in North Lincolnshire to complete a sky dive from 15,000ft in support of Kirkwood Hospice, a local charitable organisation providing care to patients with life-limiting illnesses and their families. Over the past few months, Nigel Meredith, Joshua Covell and Kieran Carr have been raising money to complete the skydive and support Kirkwood Hospice and their amazing work.
To date, the three have raised a grand total of £3,775! They are still taking donations now, so in order to donate to Nigel, Josh and Kieran, please visit the following link: https://www.justgiving.com/team/Teamdualseal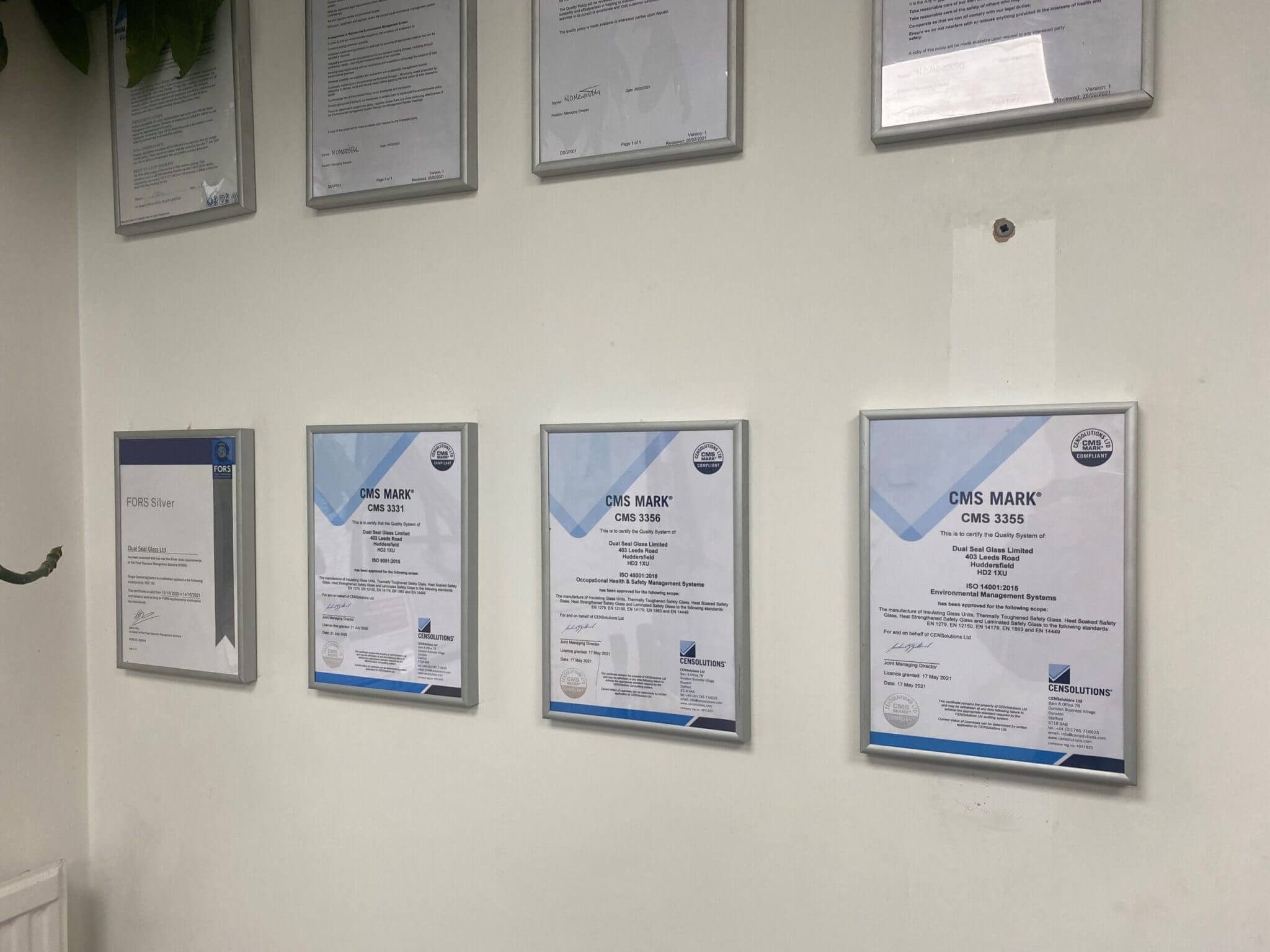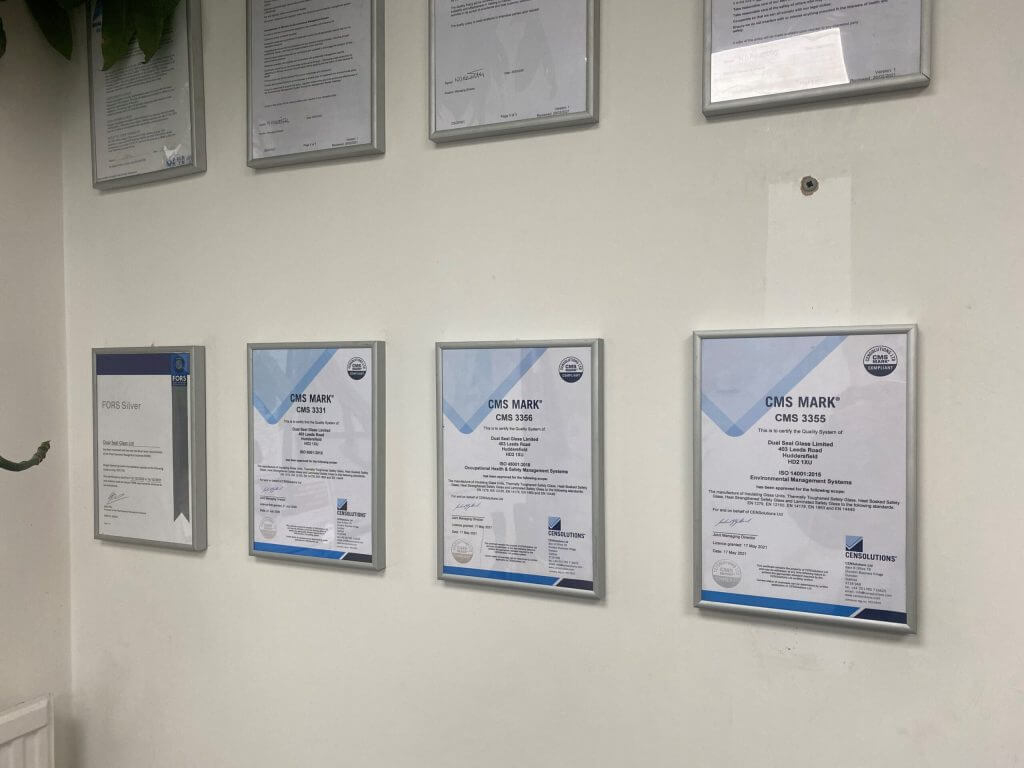 Dual Seal awarded ISO 14001:2015 and ISO 45001:2018
We are pleased to announce that dualseal has been awarded ISO 14001:2015 Environmental Management Systems and ISO 45001:2015 Occupational Health & Safety Management Systems. This has come after hours of hard work from Oliver, Health, Safety & Technical Manager, and an audit on Friday 15th May atdualseal by CEN Solutions.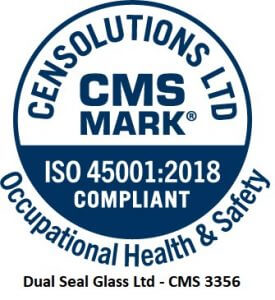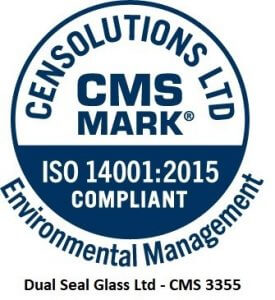 Oliver Ashford played an important role in achieving this, and when asked, said, "Achieving these accreditations has been an in-depth process but well worth the hard work and effort, as they are the three main international standards in the construction industry and demonstrate our highest commitments and standards of compliance in place across all areas of our delivery. We're incredibly proud to have obtained these certifications and achieve an integrated management system for all three standards, especially against the backdrop of the recent pandemic and the challenges that has presented the business, and it shows everyone's hard work across the whole of the organisation to be able to achieve this."
Similarly, these are accreditations which Managing Director, Nigel D Meredith, has aspired to have for years. Nigel said, "This is a great accolade for the company and shows how we have developed over the years and become aware of how we can make a difference to the environment by the way we produce and re-cycle responsibly. I would like to say a big thankyou to Oliver Ashworth, our QC Manager/Health & Safety Officer for his many hours of work establishing the systems required and to all employees for buying into this ethos."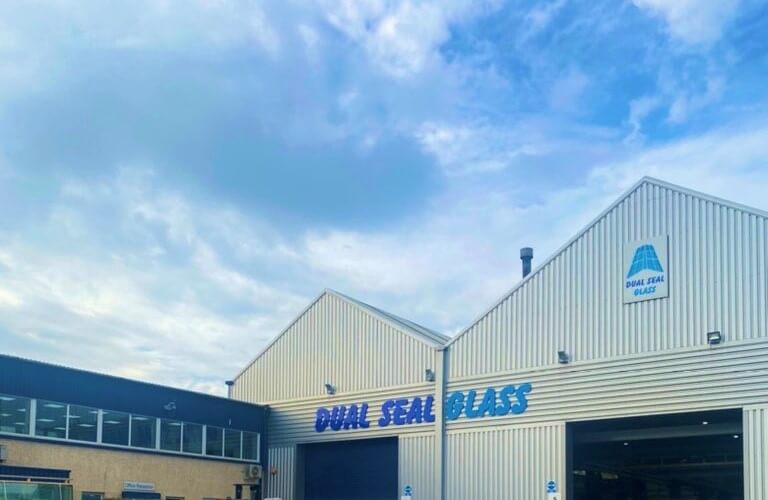 Lynda celebrates 25 years atdualseal!
Congratulations to Lynda, Payroll/Purchase Ledger Manager, who is celebrating 25 years atdualseal. Lynda has become a vital part of the accounts department during her years atdualseal, and a recognisable face across the workforce.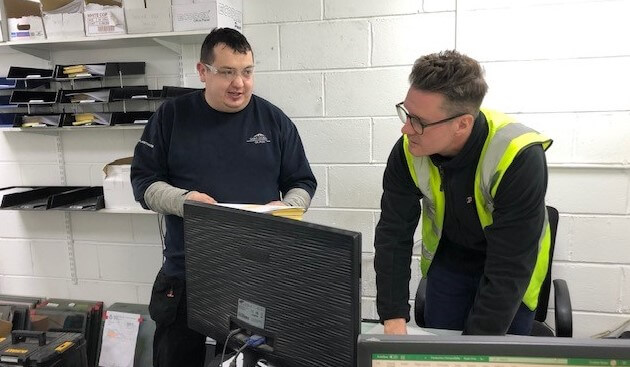 Production managers continue to develop their skills
As part of an ongoing commitment and drive to develop our employees, the entire production management team at dualseal are enjoying their learning.  The production management team at dualseal were enrolled onto a Level 3 Diploma in Management qualification six months ago.  This is just a small part of our company-wide, award winning learning and development programme.
So far, so good
We asked the managers how they feel about the qualification and feedback from has been extremely positive so far.
Our Transport Manager Dominic says, "I am looking forward to learning about the five principles of business. In particular budgeting and growing through innovation".
Evening production manager, Gareth added: "As I know I have a lot of experience to give my team, I am looking forward to the module which covers coaching and mentoring because am keen to learn techniques on how best to deliver it".
Lamination manager, Brijesh said "In production we are so busy, so it is good to be able to learn about other parts of running a business such as marketing and sales.  The module I am looking forward to the most is the quality assurance module.  We take quality so seriously here atdualseal I always welcome the opportunity to learn more in this area".
dualseal are committed to developing all team members
UK manufacturing is going through an uncertain time, not least because there is a shortage of skilled employees and an ageing workforce.  With this in mind dualseal, who employ 150 local individuals put a strategy together, designed to provide a workplace in which individuals can learn and grow and where career development through education in embraced and encouraged.
Around 50% of the entire workforce are enrolled on an external qualification or have received formal training in the past 6 months, the majority of those who are not, have already recently received it.
The future is bright
dualseal is a place where people can learn and grow and have a long career with us. We now have people calling and emailing speculatively to enquire about vacancies.  This is because they have heard from our employees that it is a place to work that values and looks after its employees.  We have seen improvements in attendance and fewer individuals are leaving our employment.  dualseal are in the planning stage of a major apprenticeship scheme so we can recruit, develop and grow our own talent.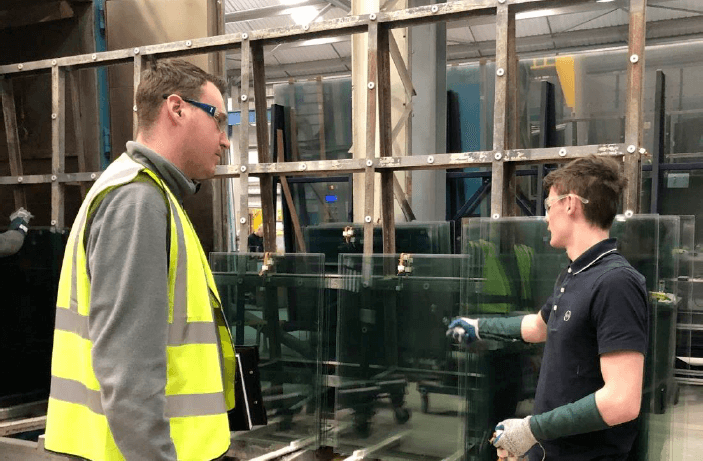 Welcome to the team Oliver Ashford
we are delighted to announce oliver ashford has joined the dualseal team as health & safety and training officer.
oliver was first introduced to the company as a trainer and assessor, delivering nvq's to our team. his dedication to providing quality, comprehensive training, with both the employee and employer at the heart of his approach and his attention to detail impressed from day one.
oliver said "i have been working with dualseal for roughly around the 12 month mark now, during this period i was working within the training industry providing external training to dualseal in the form of nvq's and apprenticeships".
oliver assessing one of our apprentices whilst heat soaking
oliver, who had been delivering nvq level 2 in glass processing to 10 employees in addition to a level 3 nvq in management added "it was a great opportunity when the invitation was offered to be a part of dualseal, to come on board full time as their health & safety and training officer was a straight forward decision for me." "having spoken to the directors it was great to hear from them, their willingness and understanding of up-skilling staff and the effects it has on building a strong and reliable business. working at dualseal is going to be a great challenge that i am looking forward to".
we are looking forward to having a dedicated training resource in-house to ensure our employees continue to develop and remain engaged and motivated to ensure they deliver the exceptionally high standard of quality our customers are used to. oliver surmised by saying "i can't wait to build up a good relationship with the guys to allow dualseal to uphold their main values and ensure they are the leaders in the commercial glass sector."
we look forward to working with you oliver