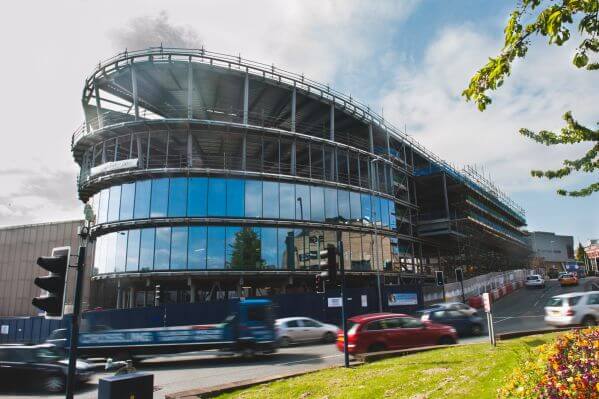 dualseal delivers for landmark Huddersfield University building
Leading sealed unit manufacturer for the commercial glazing market dualseal has teamed up with a range of West Yorkshire firms to construct a prestigious £27.5m university building just a few miles from its Huddersfield HQ and factory. 
The company has manufactured 2100 square metres of high performance insulating glass units (IGUs) for the University of Huddersfield's new Oastler Building, which will provide a new home for Huddersfield's Law School and the School of Music, Humanities and Media. Due to open early 2017, the building is a tribute to Richard Oastler, the 19th century reformer who campaigned to curb child labour and improve conditions for all workers in the new factories of the Industrial Revolution.
The university and main contractor Morgan Sindall have supported a local sub-contractor supply chain in the Oastler Building's construction, with dualseal's sealed units being installed by HW Architectural. Based in Brighouse, HW Architectural is a leading designer, fabricator and installer aluminium windows, doors and curtain walling contractor whose link-up with dualseal has ensured the contemporary glazed facade is locally sourced and built. This building also features Yorkstone sourced from nearby Johnsons Wellfield Quarries, ensuring around166 tonnes of the local stone is used to clad other parts of the envelope.
Designed by AHR, the BREEAM Outstanding rated building's curved frontage faces out onto the main ring road with a 3.5m cantilever across the six storeys. The architect's aim was for this dramatic design feature not only to provide an innovative and dynamic shape, but to be a key environmental feature which helps to self-shade the building's glass facade to reduce solar gain and energy costs for cooling.
dualseal was commissioned to supply vision glazing containing Cool-Lite SKN 154 high performance solar control coating and non-vision glass spandrels in anthracite grey. These were manufactured over a 12 week period.
Nigel Meredith, joint MD at dualseal said: "As a long-established local sealed unit manufacturer employing around 100 people in Huddersfield, it is a privilege to have been involved in creating this fantastic new Huddersfield University facility. Whilst the vast majority of our sealed unit contracts are outside our local area, it is pleasing to be involved in a project like this that we know will benefit the people who live and work around us."
dualseal has established a unique position in the UK construction market by being the only IGU manufacturer working solely with commercial glazing customers. It's close working relationship with major glass manufacturers ensues it is ideally positioned to advise on the latest glass specifications for commercial doors, windows and facades in order to meet even the most complex mix of energy, comfort, security, safety and aesthetic goals.