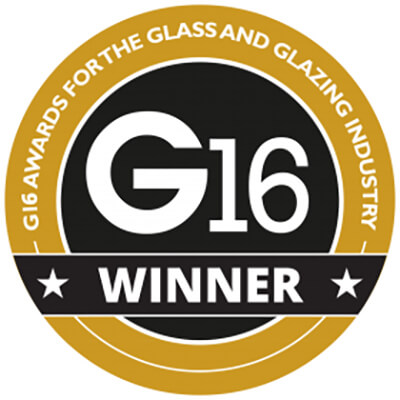 dualseal named Glass Company Of The Year at the 2016 G-Awards
The accolade is sure to be the crowning achievement for the business after a year that has included the appointment of a new-look board, a major site expansion and celebrations for its 21st anniversary.
The event, which recognises the achievements of the glass and glazing industry, took place at a glittering awards ceremony at The London Hilton on Park Lane on 18 November.
dualseal, a finalist for two years running, was awarded the coveted winner's title and presented with the trophy by awards' host and TV's 'Mock the Week' regular Milton Jones.
Dual Seal's joint managing director and owner Nigel Meredith said: "It's an honour to be named Glass Company of the Year. I am extremely proud of what we have accomplished to date and would like to thank all our staff for their hard work and commitment. Their efforts have undoubtedly helped secure our position at the forefront of the commercial glazing sector".
As dualseal continues to manufacture IGUs solely for commercial glazing customers, the award will serve as proof that their approach to business is a success.
Fellow joint managing director Richard Morris added: "It is great to see that our core values of customer focus and service have been rewarded by the G16 judges. Sometimes it takes someone outside of the business to remind you of what you do well!"
dualseal is the UK's only IGU manufacturer dedicated solely to the commercial glazing market. It employs 115 people at its 100,000 sq. ft. factory and HQ in Huddersfield and serves curtain walling contractors across the country.