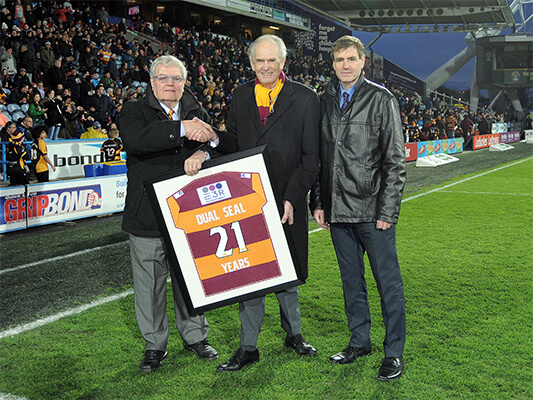 dualseal to continue as associate kit partner
dualseal have been partners of the Giants for 22 years and are held in very high regard by everyone at the club.
Set up by father and son David and Nigel Meredith back in 1995, the company has established an outstanding reputation in the commercial building industry for being to go-to people for the world's most advanced low-emissivity (low-e) and solar control glasses.
Giants Commercial Manager Brian Blacker commented: "I'd like to thank our longest serving Partner, dualseal, for committing to another year as Associate Kit Partner. The club has an excellent relationship with dualseal and it's a pleasure to work alongside such a prestigious company. We hope for many more successful years to come working beside dualseal and are delighted to see their name, which has become synonymous with Giants kits in recent years, on the new 2019 kit."
Nigel Meredith commented: "We are eagerly looking forward to the 2019 season and another year working in Partnership with the Huddersfield Giants. We are delighted to reaffirm our long term relationship with the Giants and are proud, as such passionate and devoted Giants fans, to see the dualseal name on the 2019 kit."
The local family owned business is based on a 100,000 sq ft site on Leeds Road, where it employs 110 people. The company manufactures hundreds of double glazed units- or insulating glass units (IGUs) as they are commonly known- which are fitted into the windows, doors and facades of office buildings, schools, hospitals, factories, exhibition centres and much more.