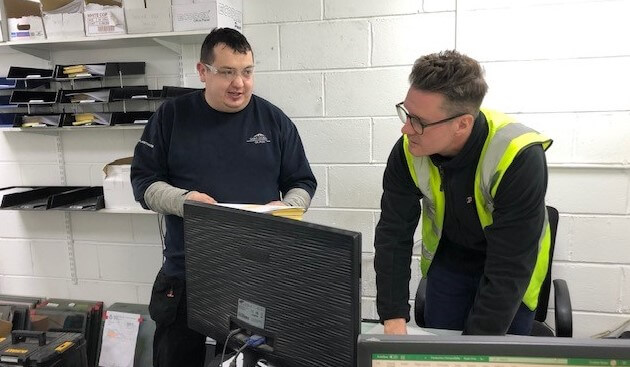 Production managers continue to develop their skills
As part of an ongoing commitment and drive to develop our employees, the entire production management team at dualseal are enjoying their learning.  The production management team at dualseal were enrolled onto a Level 3 Diploma in Management qualification six months ago.  This is just a small part of our company-wide, award winning learning and development programme.
So far, so good
We asked the managers how they feel about the qualification and feedback from has been extremely positive so far.
Our Transport Manager Dominic says, "I am looking forward to learning about the five principles of business. In particular budgeting and growing through innovation".
Evening production manager, Gareth added: "As I know I have a lot of experience to give my team, I am looking forward to the module which covers coaching and mentoring because am keen to learn techniques on how best to deliver it".
Lamination manager, Brijesh said "In production we are so busy, so it is good to be able to learn about other parts of running a business such as marketing and sales.  The module I am looking forward to the most is the quality assurance module.  We take quality so seriously here atdualseal I always welcome the opportunity to learn more in this area".
dualseal are committed to developing all team members
UK manufacturing is going through an uncertain time, not least because there is a shortage of skilled employees and an ageing workforce.  With this in mind dualseal, who employ 150 local individuals put a strategy together, designed to provide a workplace in which individuals can learn and grow and where career development through education in embraced and encouraged.
Around 50% of the entire workforce are enrolled on an external qualification or have received formal training in the past 6 months, the majority of those who are not, have already recently received it.
The future is bright
dualseal is a place where people can learn and grow and have a long career with us. We now have people calling and emailing speculatively to enquire about vacancies.  This is because they have heard from our employees that it is a place to work that values and looks after its employees.  We have seen improvements in attendance and fewer individuals are leaving our employment.  dualseal are in the planning stage of a major apprenticeship scheme so we can recruit, develop and grow our own talent.