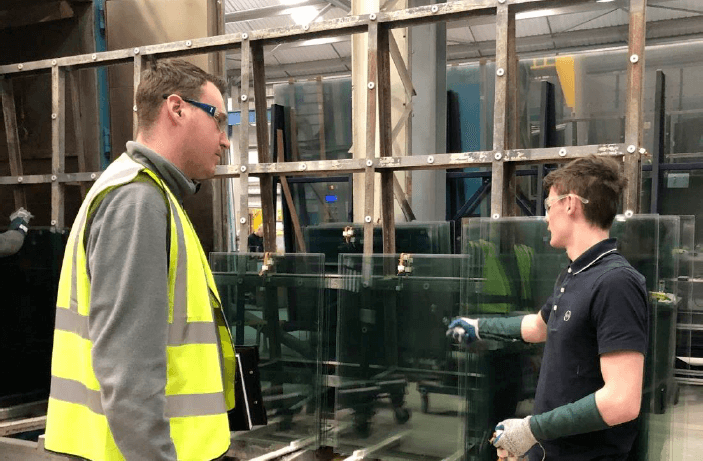 Welcome to the team Oliver Ashford
we are delighted to announce oliver ashford has joined the dualseal team as health & safety and training officer.
oliver was first introduced to the company as a trainer and assessor, delivering nvq's to our team. his dedication to providing quality, comprehensive training, with both the employee and employer at the heart of his approach and his attention to detail impressed from day one.
oliver said "i have been working with dualseal for roughly around the 12 month mark now, during this period i was working within the training industry providing external training to dualseal in the form of nvq's and apprenticeships".
oliver assessing one of our apprentices whilst heat soaking
oliver, who had been delivering nvq level 2 in glass processing to 10 employees in addition to a level 3 nvq in management added "it was a great opportunity when the invitation was offered to be a part of dualseal, to come on board full time as their health & safety and training officer was a straight forward decision for me." "having spoken to the directors it was great to hear from them, their willingness and understanding of up-skilling staff and the effects it has on building a strong and reliable business. working at dualseal is going to be a great challenge that i am looking forward to".
we are looking forward to having a dedicated training resource in-house to ensure our employees continue to develop and remain engaged and motivated to ensure they deliver the exceptionally high standard of quality our customers are used to. oliver surmised by saying "i can't wait to build up a good relationship with the guys to allow dualseal to uphold their main values and ensure they are the leaders in the commercial glass sector."
we look forward to working with you oliver